Blog and News from EDG, Advertising Agency, in Sarasota Florida and Steyr Austria
Meet Guenther Edelsbacher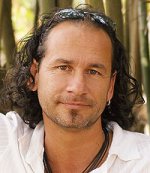 After designing and developing for so many companies and so many years I realized, that one of the most powerful marketing tool is your own belief and enthusiasm about your products and services - capturing this spark and creating a fire is what I do.

I reside in the USA and my creative wheels are turning 24 hour a day. I am a designer with a background in classic advertising, photography, typography, color management, corporate design/identity, web development, branding and special effects for design. With all that knowledge I am able to seamlessly switch gears between print and web.

I work hard, cook like a dream and enjoy life. I believe in myself, the power of the universe and I am thankful for all I have been given (and for everything I have taken:).

Edelsbacher Design Group started in Europe in 1990 with innovative designs and bold concepts. Success and curiosity led us to the USA where our clients enjoy our creativity and our different way of thinking.

Sarasota Florida is home for the US branch of Edelsbacher Design Group. International flavor and the knowledge of the USA and the European marketplaces puts us in the unique position of being able to market clients in the USA and internationally. We bridge the creative gap between the Wild West and Europe!